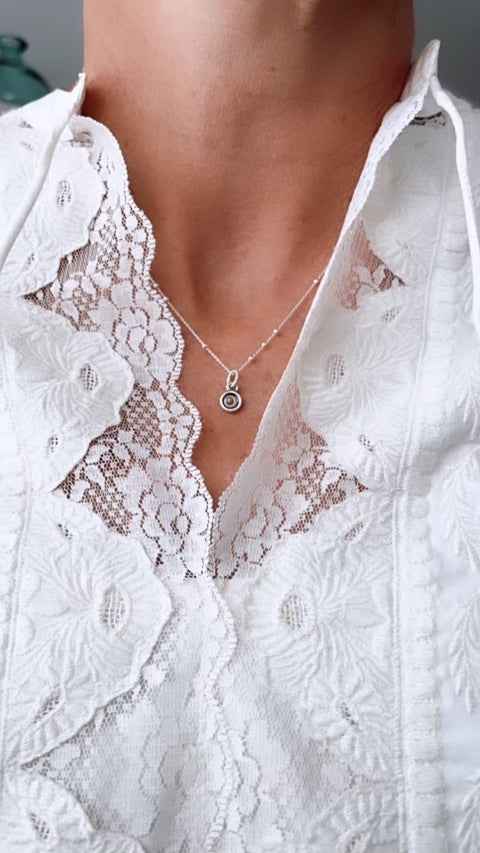 THE MUSTARD SEED NECKLACE
"For verily I say unto you, If ye have faith as a grain of mustard seed, ye shall say unto this mountain, remove hence to yonder place; and it shall remove; and nothing shall be impossible unto you." Matthew 17:20
It is up to us to exercise a small mustard seed of faith, but as we do, God moves mountains for us. President Russel M. Nelson says, "The mustard seed represents a small but growing faith. The Lord does not require perfect faith for us to have access to His perfect power. But He does ask us to believe." Even just a small belief can grow into something so large, families of birds can be supported by its branches. 
Remember, NOTHING shall be impossible unto you. 
+Length: 18"
+Sterling Silver or Gold Fill Mustard Seed chain
+Sterling Silver plated pewter or Gold Plated pewter Mustard Seed Pendant
+Mustard seed suspended in resin


---
THE MUSTARD SEED NECKLACE
Love love love my necklace
Honey + Ice is literally my new favorite jewelry brand. I have LOVED every single piece I have ever purchased from them. Couldn't recommend more.
THE MUSTARD SEED NECKLACE
Mustard Seed Necklace
Absolutely love my mustard seed necklace. I love how dainty it is! I chose this necklace in memory of my mother who recently passed away. She had a charm bracelet with the mustard seed charm on it when I was a child and loved to hear her share the parable to me- With God all things are possible. The extra touch of a piece of Bit of Honey candy made my day because that was always my mom's favorite candy. Thank-you!
The Mustard See Necklace
This is a lovely necklace. I love the look and it works so well to clasp it. It is the perfect length for me. It is helping me to remember to increase my faith during this year. I love it.
Love it
The necklace is beautiful and I love the message it reminds me of.