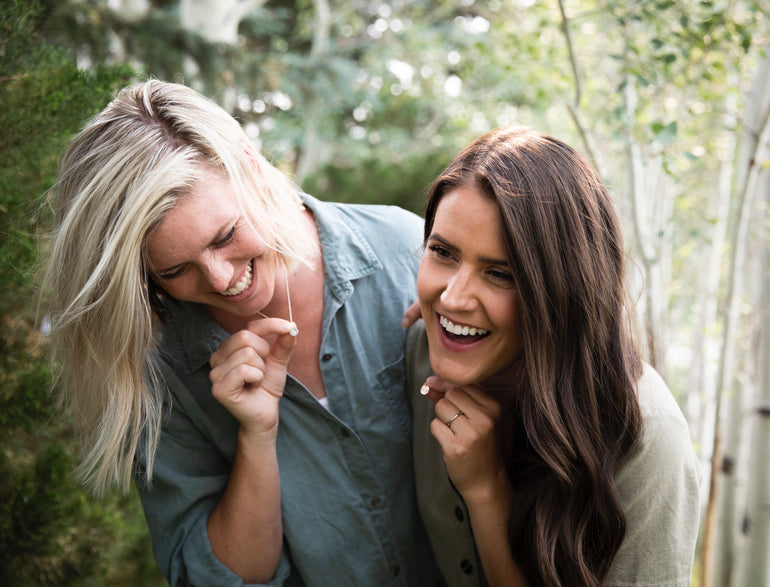 The Climb Your Mountain Necklace
Available in both Gold Fill and Sterling Silver
+Hand Stamped Pendant
+16"-17.5" adjustable
+If you prefer long necklaces, these necklaces may feel a bit snug to you! You can always order a Gold or Silver Extender chain to go with them!
+Pairs Perfectly with the Mustard Seed Necklace to remind us that just a little seed of faith can help us conquer any mountain!
We have been so excited to share this collaboration between Honey+Ice and The Faith Collective!
Part of the inspiration behind this piece comes from The Faith Collective's writer, Haley Clyde: My dad likes to tell a story about a time he went skiing with an especially talented skier friend. On one of their runs he was led down a dauntingly steep and narrow shute filled with foreboding rocks and deep powder. He focused intently on navigating the obstacles and reaching the bottom. Once there, he was told to look back up the mountain and see what he had just accomplished. The tracks swiveled in a figure eight down to where they stood, and burned a lesson into my dad's mind that he's shared with his children on countless occasions since.

'Look back up the mountain,' he said when I was a newly graduated college student, frantically looking for a job in New York City. 'Look back up the mountain,' he said after I finished a particularly difficult round of IV antibiotic treatment for my chronic illness. 'Look back up the mountain,' he said while I lamented over the stresses of creating a small dance school in Manhattan.

Each time I take his advice and look back up the mountain, I see what great things the Lord has done in my life. There was no way I could have graduated college, endured such agonizing treatment, and created something so far beyond my comfort level without His tender mercies. Without His great works.

Whether it's merely making it down the mountain, or moving it entirely, with God's help, we can accomplish anything.
---
The Climb Your Mountain Necklace
Perfect gift
I bought this necklace for my 16 year old granddaughter. Her Birthday is in April and I just know she is going to love it!
Dainty
Very pretty, dainty necklace.
Gift for my sister
She just called me today and thanked me for it. She's been out of town. She loves it!! Thanks for the great service and beautiful necklace.
The mountain necklace
The necklace is delicate and beautiful. I would like to put the mountain and mustard seed on the same chain. How would I do that?