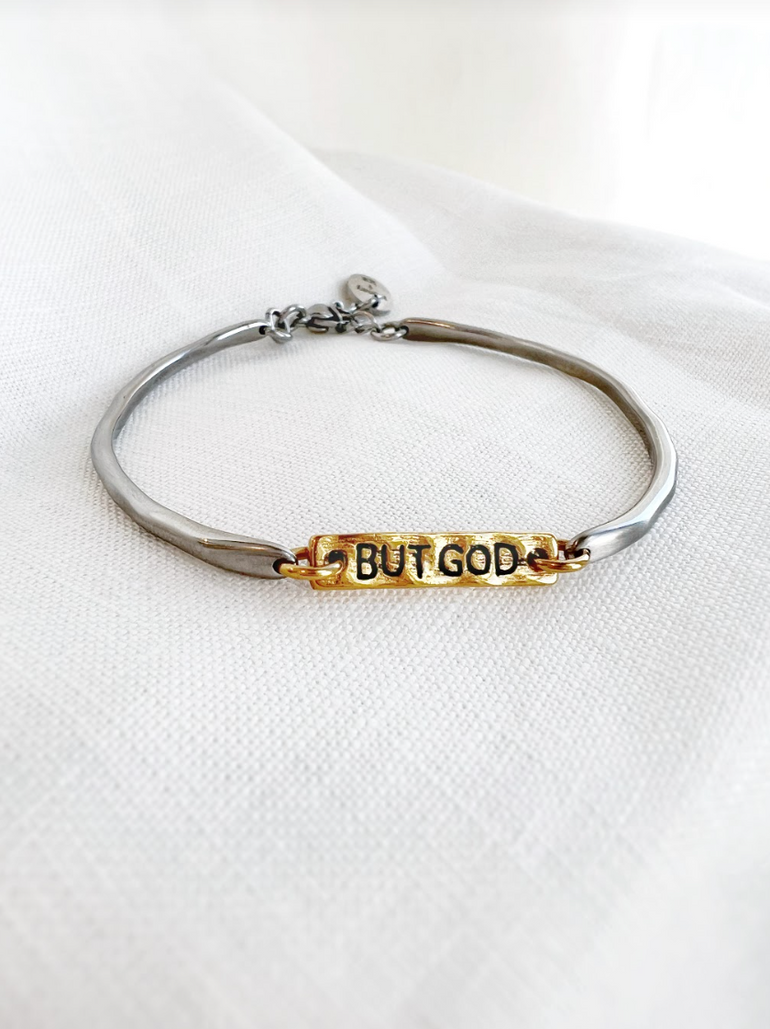 Details:
+ONE SIZE FITS ALL adjustable from 6.75" up to 7.5"
 +Stainless Steel- This material is Colorfast meaning it won't change, no matter where or how much you wear it! It also allows us to keep the pricing lower for you!
---
a constant reminder
This bracelet is a constant reminder to trust that God is in the details of my life. It just seems like the pressures and worries that are a part of daily living can distract from from what is constant, true and dependable. Wearing this visual reminder enhances my faith and trust in God...He is always with us and will provide strength, miracles, forgiveness and His loving kindness to all who remember Him.
A perfect gift
What a Beautiful bracelet. I purchased it as a gift for a friend who is going through a difficult time. I hope it will be a constant reminder for her that He is with her always!
A favorite piece
I love this BUT GOD bracelet! It's small and subtle, with mixed metal and a beautiful message. I was wearing it one day and felt prompted to give it to a friend who was struggling. I hope it will remind her that with Him she can do anything.
Awesome
I love this bracelet and wear it day and night. It's good quality. I need the message reminder.
Love it!!!
It's even more beautiful in person!!! So light that you can't even tell you have it on. I will agree with some of the reviews that it can be a bit tricky to clasp by yourself, but it's definitely not a deal breaker:)