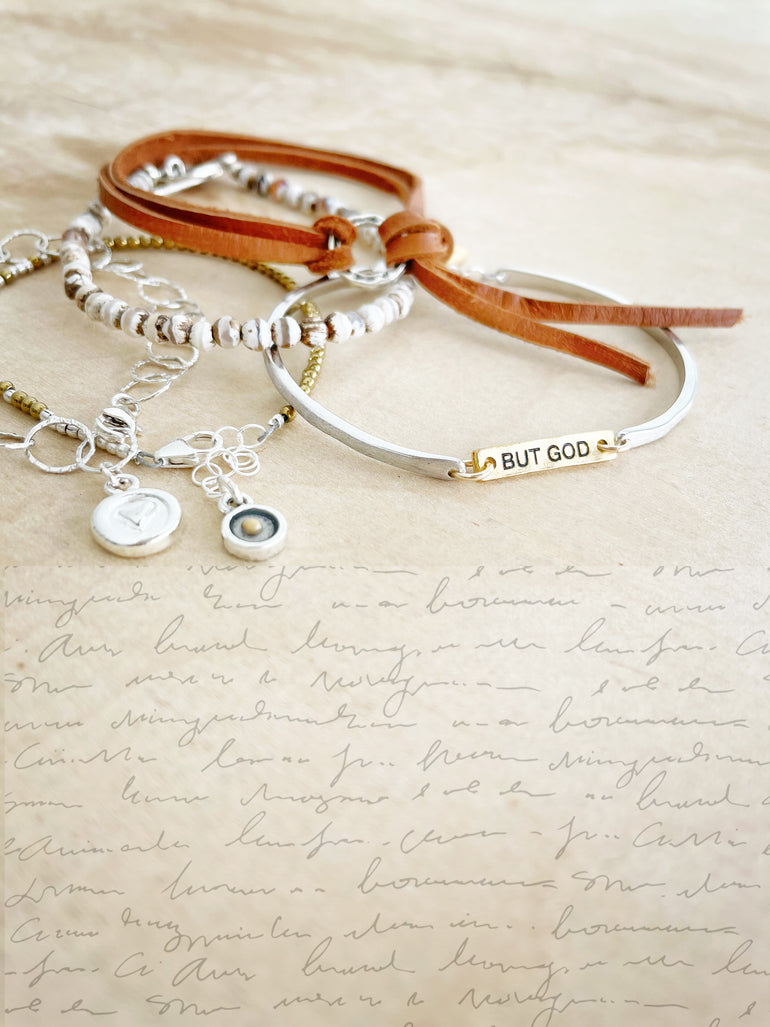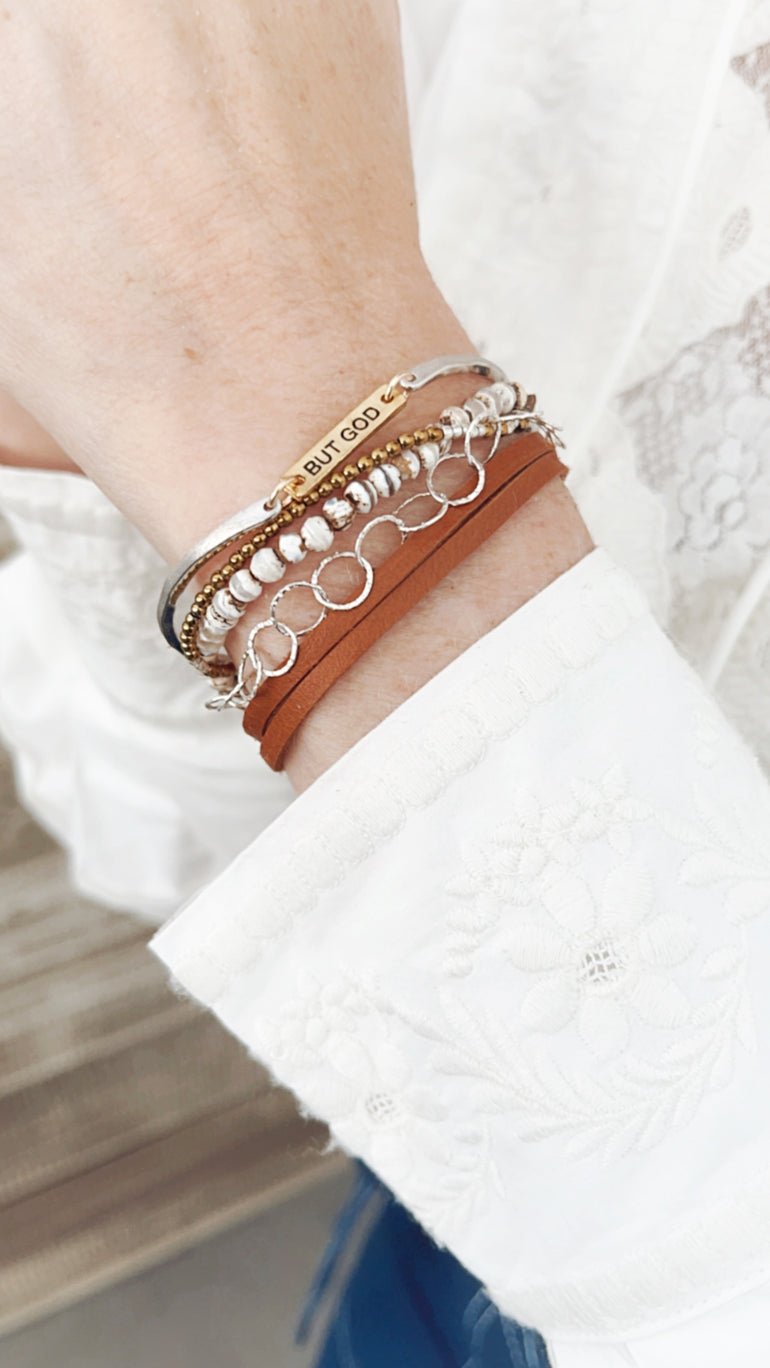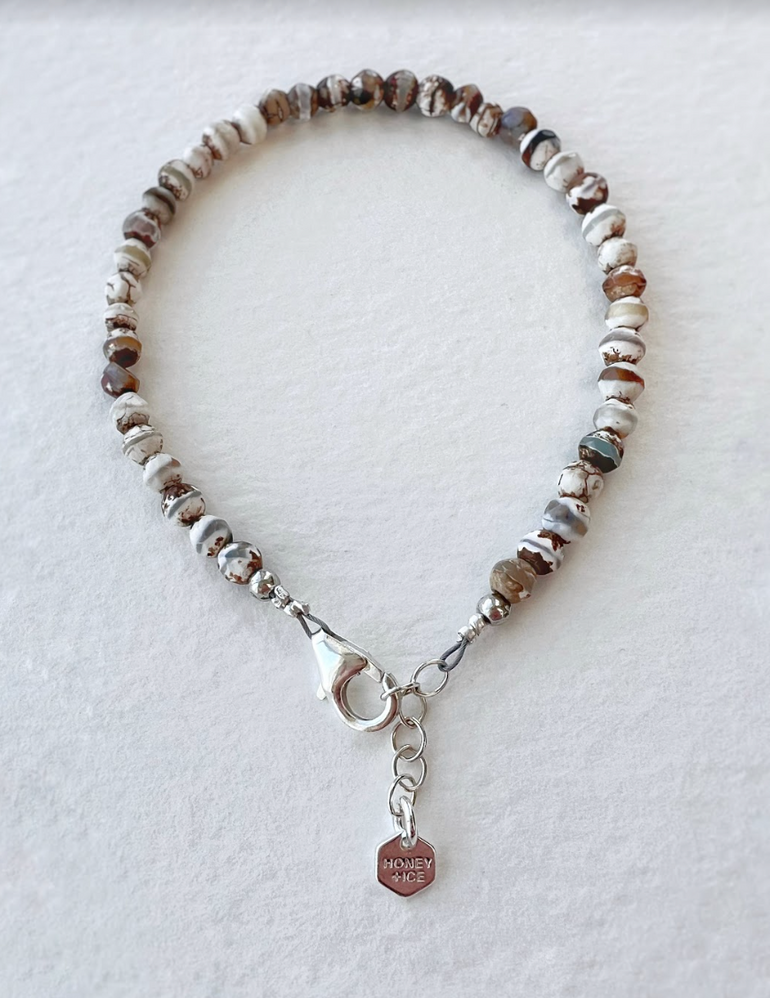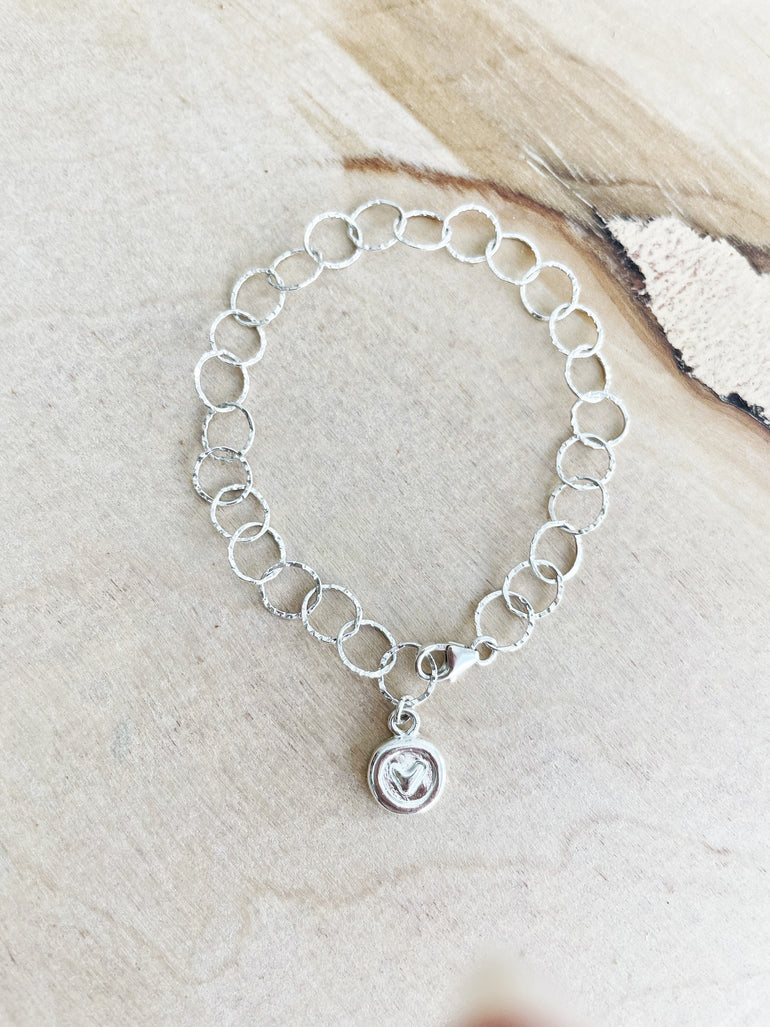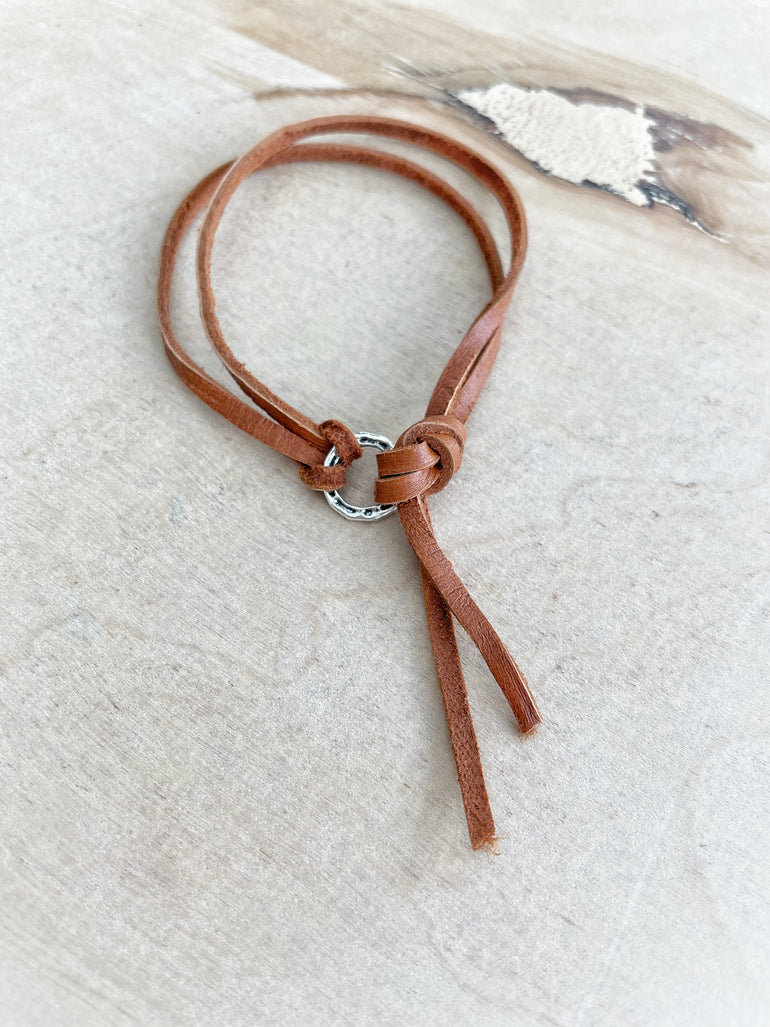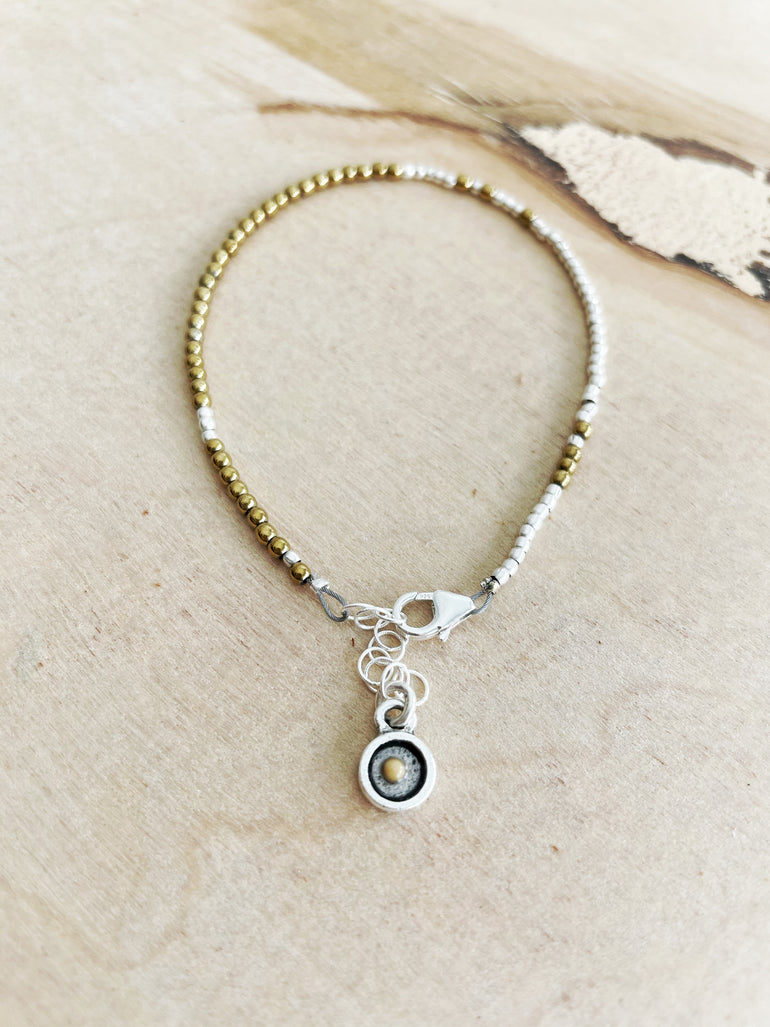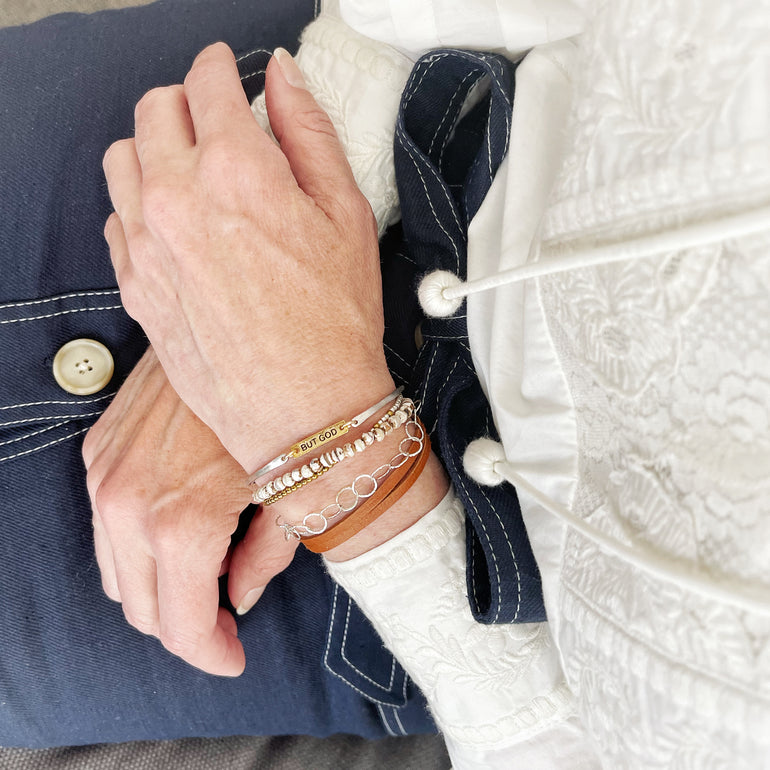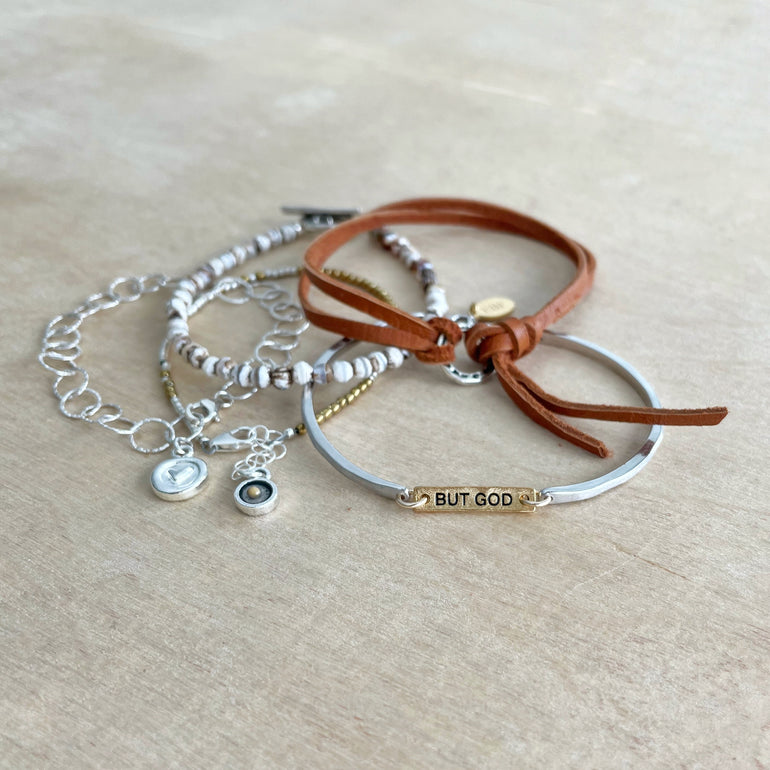 $138.00
Regular price
$173.00
off
"There will be moments in life when things feel bigger than our capacity to handle.  Moments where things realistically won't work out.  You know just how it is.  You know.  And maybe it feels like this hard thing will never end.  Like deliverance will never come.  That miracles have ceased on the Earth.  Those are the moments when you must look for a tiny glimmer of hope.  Those are the times when you must whisper the truth found in Jeremiah 32:17, "Nothing is too hard for my God."  Against hope, believe in hope my dear friend.  
He is bigger than this.  Nothing is too hard for Him.  Believe.  

Everyone else might say the time for miracles is past.

But God."
--Emily Belle Freeman
Set Includes: 
+BUT GOD Bracelet ONE SIZE adjustable
+Mustard Seed Bracelet in S/M 6 1/4"-7 1/4" adjustable or L 6 3/4"-7 3/4"
+Agate Flame Bracelet in S/M 7 1/4" or L 8"
+Hammered Ice Bracelet in S/M up to 7" adjustable or L up to 8" adjustable
+Leather Roads Bracelet one size adjustable
Bracelets are different lengths because different bead sizes mean a different fit. The smaller beads don't take up as much space and bend easier than the large ones. As a general rule, the larger the bead, the longer the length of the bracelet needs to be to accommodate the same size wrist. 
---
BUT GOD Set
$138.00
Regular price
$173.00
Beautiful set
Giving as a gift and it makes me want to order one for myself ;)
wifes birthday
she loved it, and appreciated your patient customer service
But God set
I absolutely LOVE this set! My "but God" bracelet has come apart several times at the clasp but I wear it 100% of the time so if it gets snagged or pulled too much it comes apart, I have my husband put it back together and I put it right back on! Love!!! I LOVE hearts so it's perfect! And the mustard seed! Just another way I can speak of my faith in Jesus Christ, God's only Son, who was born, died, and was raised again on the 3rd day! 🤍🤍🤍🤍🤍🤍🤍🤍🤍🤍🤍🤍
Love the bracelets but…
I love this set of bracelets and the messages but the very time putting on the mustard seed bracelet, it broke.